TORE!
Here are some photos of my new KITTEN! He is in the "Bengal" breed of domestic cats, though he is only two generations from the wild Asian Leopard Cat.
The photos below are courtesy of the breeder, Mystic Hills. They are very professional and I highly recommend them.

| | |
| --- | --- |
| The earliest photos I have of him. | That's his sister in the background. |
| What a pretty coat. | What a cute face! |
| "I'll get that ball yet!" | I went right out and got him the same toys you see here. |
| Isn't he adorable? | What a CUTIE! |
| He loves feather toys. | This is Tore at 11 Months |
Web Pedigree(Under Construction)
Bundas Cattery: Tores mother and grandfather are from Bundas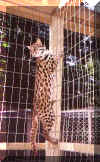 Tores Grandpa, "Taro" of Bundas
He's an Asian Leopard Cat (a wild cat)
Millwood :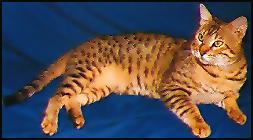 Rajin Cajin of Millwood


One of the very few times you'll see me in a suit!

Me, with a full beard (How I look now)

My Amish relative, Jedidiah

My very distant cousin, Buford
Here I am, with a clean cut shave!